The Tale of Benjamin Bunny
Part 2
Peter said he hoped that it would rain.
At this point old Mrs. Rabbit's voice was heard inside the rabbit hole, calling: "Cotton-tail! Cotton-tail! fetch some more camomile!" Peter said he thought he might feel better if he went for a walk.

They went away hand in hand, and got upon the flat top of the wall at the bottom of the wood. From here they looked down into Mr. McGregor's garden. Peter's coat and shoes were plainly to be seen upon the scarecrow, topped with an old tam-o'-shanter of Mr. McGregor's.

Little Benjamin said: "It spoils people's clothes to squeeze under a gate; the proper way to get in is to climb down a pear-tree." Peter fell down head first; but it was of no consequence, as the bed below was newly raked and quite soft. It had been sown with lettuces.

They left a great many odd little footmarks all over the bed, especially little Benjamin, who was wearing clogs.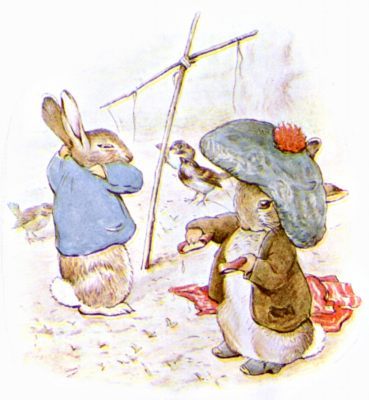 Little Benjamin said that the first thing to be done was to get back Peter's clothes, in order that they might be able to use the pocket-handkerchief. They took them off the scarecrow. There had been rain during the night; there was water in the shoes, and the coat was somewhat shrunk. Benjamin tried on the tam-o'-shanter, but it was too big for him.

Then he suggested that they should fill the pocket-handkerchief with onions, as a little present for his Aunt. Peter did not seem to be enjoying himself; he kept hearing noises.

Benjamin, on the contrary, was perfectly at home, and ate a lettuce leaf. He said that he was in the habit of coming to the garden with his father to get lettuces for their Sunday dinner.
(The name of little Benjamin's papa was old Mr. Benjamin Bunny.) The lettuces certainly were very fine.